SAT Information
Scholastic Aptitude Test (SAT)
The March 13, 2021 SAT test for Shiawassee Scholars will be held at the Owosso HIGH School, 765 E North St. Parent drop off is in the East parking lot. Due to Covid restrictions, only students are allowed in the building.
The December 5, 2020 SAT test has been postponed to March 13, 2021
Registration is open January 1 and the deadline is February 11, 2021
If your child scores in the top 10-15% of their class at school, consider having them take the SAT test in middle school. The SAT test is the same test that high school students take. If you have an academically talented student they may qualify for gifted programs. Please read more below about NUMATS and SAT.
Northwestern University - Midwest Academc Talent Search (NUMATS)
The Midwest Academic Talent Search is conducted through Northwestern University and encourages middle school students (grades 6-8) to participate in above grade level testing in order to identify those students who are academically talented. Shiawassee County uses the scores of 8th grade students who participate in the NUMATS to identify students for the Shiawassee Scholars program. Eighth grade students who wish to be considered for the Shiawassee Scholars MUST take the Scholastic Aptitude Test (SAT) in December of the 8th grade year. In order to qualify for the Shiawassee Scholars students must score as one of the top 50 8th grade students in the county based on the Reading and Mathematics portions of the SAT and attend a public high school in Shiawassee County. Students will be notified in February if they qualify for the Shiawassee Scholars based on their SAT scores in reading and mathematics. Please contact Renee Dotson at 989-743-3471 with any questions regarding testing or the Shiawassee Scholars.

The Center for Talent Development provides information regarding the NUMATS as well as how to register to take the SAT test in middle school.
Shiawassee County 6-8th grade students will need the following information to register for NUMATS to take the SAT test in December.
Coding (use of THREE correct numbers) on the NUMATS application is vital so the Shiawassee RESD receives a copy of your scores to be eligible for the Shiawassee Scholars Program.
Shiawassee Scholar and SAT Information
Step by Step Instructions to Register for the December 5 SAT
Resources
All necessary documentation and instruction can be found below.
Below are links to practice sites for the SAT test:
Interpreting Your Child's SAT Results
Test results for Middle School students may be accessed online by parents. Please click on NUMATS Toolbox for your child's scores and ideas for programming based on the test results for your child.
Please contact Renee Dotson at 989-743-3471 or dotson@sresd.org with any questions regarding testing or the Shiawassee Scholars.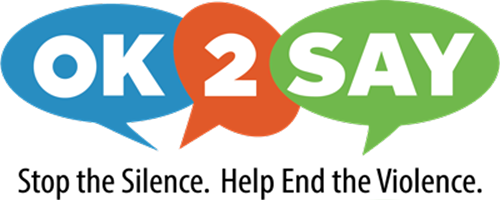 A hero doesn't necessarily have to wear a cape and tights, maybe a hero speaks up for what's right. Maybe that hero could be you. If you see or hear something that doesn't seem right, you can submit a confidential tip to OK2SAY. OK2SAY allows anyone to confidentially report tips on criminal activities or potential harm directed at Michigan students, school employees, or schools. Protect yourself and others by using OK2SAY. Because if you won't, who will?