About Us
SRESD Vision
Excel at being child focused, caring and collaborative while responding to the needs of those we serve, inspiring innovation and preparing for the future.
SRESD Mission
Provide knowledge driven, research based, direct and collaborative services that support and guide quality learning, innovation and diversity.
What is a Regional Educational Service District
The Shiawassee Regional Education Service District (SRESD) supports local school districts with cost efficient, non-duplicative county-wide services. We provide research-based teaching and learning methods and professional development to school personnel, along with direct services like speech, physical therapy and many others to public and non-public school students, and Special Education for students birth to 26, as well as Early Childhood, Great Parent/Great Start services, Shiawassee Scholars and Career & Technical Education. We also provide Business Office services such as payroll and accounting for districts in our service area, technology and data support, school improvement and state reporting support, and state-wide innovative projects that serve professionals who provide services to students and their families.
Michigan Department of Education
Our History
For many years Regional Educational Service Districts (RESDs) were known as Intermediate School Districts (ISDs). In 1962 the Michigan Legislature created ISDs to bring about quality and equitable educational opportunities to schools and students throughout Michigan.
Over the years, the unique roles of ISDs have adapted to include the realities of increased calls of educational accountability and choice. For example, ISDs are helping member districts understand, comply, and implement the standards required of the complex federal No Child Left Behind law and state accreditation system. Currently the SRESD provides technical assistance to schools in the arena of data review, teaching and learning and overall school improvement.
How We Accomplish our Mission
ISDs/RESAs/RESDs accomplish their mission in many ways. Some are noted below, namely by:
Creating and promoting economies of scale. Examples would include special education services for the entire county, a substitute teacher system operated by SRESD and used by many constituent districts, vocational education coursework in conjunction with local districts and Baker College, shared professional development across local districts and non-public schools and with other ISDs.
Sharing current and credible research, best practices, and innovation. Examples would include conferences sponsored by SRESD opened to others to attend, development of lesson plans shared across districts, assistive technology research, and learning library information.
Providing oversight and liaison roles. Examples would include special education monitoring, review of annual reports and school improvement plans, gifted and talented work plans, pupil accounting, truancy assistance, etc.
Building and sustaining local partnerships and sharing credible research into the importance of early childhood care and education. Examples would include serving children birth to five with special needs and their families, early childhood playgroups and home visiting through Great Parents/Great Start.
By working with workforce development boards, business and industry, ISDs help promote growing economics and stable communities. Examples would include tri-county public relations work called Keep Learning...Our Future Depends On It focusing on increasing the number of college graduates in our area, the Career Preparation Program School Interview Days, and the Renaissance Program with local businesses supporting work with area students.
By working with the Michigan Department of Education (MDE) to share information, resources on new policy legislation and programs. SRESD manages several statewide projects for the MDE.
Our Services
Business Office services, Career Preparation, Innovative Projects, Educational Services, Technology Department, and Special Education all work with local partners to utilize resources in a non-duplicative fashion to maximize the scale of effort and services that can be accessed by families.
Contact Us
Shiawassee Regional Education Service District
1025 N. Shiawassee St.
Corunna, MI 48817
Phone: 989-743-3471
Fax: 989-743-6477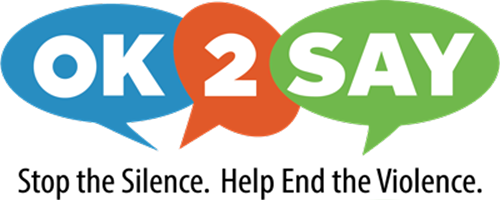 A hero doesn't necessarily have to wear a cape and tights, maybe a hero speaks up for what's right. Maybe that hero could be you. If you see or hear something that doesn't seem right, you can submit a confidential tip to OK2SAY. OK2SAY allows anyone to confidentially report tips on criminal activities or potential harm directed at Michigan students, school employees, or schools. Protect yourself and others by using OK2SAY. Because if you won't, who will?