Scholar Forms
The deadline for 2023-2024 Summer Camp Scholarship Applications is 3/1/2024. Please submit your application as soon as possible to SRESD and to the summer camp itself. Contact Kelsee Gewirtz with any questions, you may have gewirtz@sresd.org or 989-743-3471.
The Cook Family Foundation and the Shiawassee Regional Education Service District are pleased to offer the Shiawassee Scholars Program that encourages and recognizes academic excellence.

The Shiawassee Scholars Program requires a student be enrolled full-time at a high school in Shiawassee County. As a Shiawassee Scholar you may request a scholarship that offers academically talented students an opportunity to further explore a career path or advanced study in a particular discipline. There is a limited amount of scholarship funds available.

Scholarship candidates will be selected by the Shiawassee Scholars Advisory Committee based on a rubric scoring system. There is a possible 18 points on the rubric; you must receive a 12 or higher to be considered for a scholarship. Those with the highest rubric scores will be considered first for scholarships. Rubric scores will not determine the dollar amount of the scholarship you receive. The amount is a decision of the Shiawassee Scholars Committee and is based on the number of requests and budgetary allowances each year.

Click on the link below to access the scholarship application.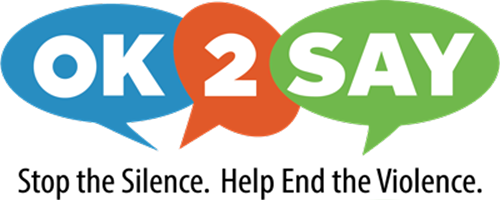 A hero doesn't necessarily have to wear a cape and tights, maybe a hero speaks up for what's right. Maybe that hero could be you. If you see or hear something that doesn't seem right, you can submit a confidential tip to OK2SAY. OK2SAY allows anyone to confidentially report tips on criminal activities or potential harm directed at Michigan students, school employees, or schools. Protect yourself and others by using OK2SAY. Because if you won't, who will?