School of Catering
School of Catering, located at the Student Learning Center - East, is ready to assist you with planning, preparing and serving of meals for a variety of activities.
We provide opportunities for young adult students to learn about the food industry in a supervised licensed kitchen. Students participate in all areas of food service which includes shopping, cooking, preparing, serving and clean up.
All menu items are homemade. Our student caterers can serve the meal or set it up and return later to clean up. We are flexible.
Please consider School of Catering when planning your next breakfast or luncheon. You may order through our website or by phone. Ask for Jenni Chapman at 2505. We will be available Mondays, Tuesdays, Wednesdays, and Thursdays beginning October 1st. Fridays will be available pending student's schedules. Our snow day policy is as follows: When the Student Learning Center East is closed - catering will be canceled. A one week notice for orders is preferable, but we have been known to work well under pressure, so let us know what you need. We are willing to work with you if our menu does not meet the needs of your event.
Thanks for your support and consideration.
Jenni Chapman
SRESD Instructional Aide
(989) 723-8205
(989) 743-3471 ext. 2505
Catering Form
Please order your selections by number AND include your choices for main dishes and sides.
1. Soup and Salad
Choice of Homemade Soup: Chicken Noodle, Chicken & Rice, Chicken Chili, Red Chili, Cream of Potato, Broccoli Cheese or Vegetable.
Choice of Salad: Fruit Salad or Tossed Salad
Choice of Bread: Rolls or Corn Bread
Dessert
$9.50 / person Note: You may choose up to 2 soups
2. Wrap
Choice of Wraps: Veggie, Turkey, Ham, Chicken, Chicken Salad or Roast Beef
Fruit Salad
Chips
$9.50 / person Note: You may choose up to 3 different wraps
3. Soup and ½ a Wrap
See soup and wrap choices above.
Dessert
$9.50 / person Note: You may choose up to 2 choices of soup and 3 choices of wraps
4. Sloppy Joes and Salad
Sloppy Joe
Choice of Salad: Toss Salad or Fruit Salad
Chips
Dessert
$9.50 per person.
5. Pasta Dinner
Choice of Pasta: Lasagna, Baked Mostaccioli or Baked Ziti
Toss Salad
Garlic Bread
Dessert
$9.50 / person
6. Homemade Chicken Pot Pie Dinner
Chicken Pot Pit
Choice of Salad: Toss Salad or Fruit Salad
Dessert
$9.50 / person
7. Casserole Dinner
Broccoli & Cheese Casserole with/without Chicken
Choice of Salad: Toss Salad or Fruit Salad
Dessert
$9.50 / person
8. Taco Bar
Choice of Taco: Beef or Chicken, Soft or Hard Shells
Spanish Rice
Choice of Beans: Refried or Black Beans
Cheese, Lettuce, Tomatoes, Onions, Sour Cream, & Salsa Dessert
$9.50 / person
9. Baked Potato Bar
Baked Potato
Choice of Toppings: Cheese, Broccoli, Ham, Bacon, Salsa, Butter, Sour Cream & Chives
Toss Salad
Dessert
$9.50 / person
10. Toss Salad Bar
Choice of Toppings: Grilled Chicken, Ham, Turkey, Bacon, Hard Boiled Egg, Shredded Carrots, Cucumbers, Tomatoes, Spinach, Romaine lettuce, Croutons and Cheese
Dessert
$9.50 / person
11. Breakfast Variety Tray
Choice of Bread: Muffins, homemade Breads or Bagels
Fruit Salad
$7.00 / person
12. Yogurt or Oatmeal Bar
Main Dish Choice: Yogurt or Oatmeal
Berries
Granola
$5.00 / person
13. Breakfast Bake
Choice of Bake: Egg/Cheese, Egg/Ham/Cheese, Egg/Sausage/Cheese, Egg/Onion/Green Pepper/Cheese, Egg/Spinach/Cheese or French Toast
Fruit Salad
$7.00 / person Note: Hash browns may be added for $1.50 / person. You may choose more than one type of egg bake if more than 10 people
Choice of Sides
Fruit Salad
Tossed Salad
Veggie Tray
Homemade Bread
Chips
Yogurt
Homemade Rolls
Corn Muffins
Fruit Plate
Homemade Coleslaw
Special Occasion Decorated Cakes
Please call for details
9 x 13 - $10.00
1/2 sheet - $15.00
Whole sheet - $25.00
A La Carte Catering Order Form
The School of Catering has an Ala Carte' menu to assist you in planning events for staff members or your own family! For example, you may order a meal and/or dessert for a funeral, sick friend, elderly parent or something for your own family.
Some of the items are in stock, frozen for quick availability. The service is based on first come, first serve basis. You could pre-order items (1 week notice) and based on discussion with the catering staff, you could pick up the items per arrangement.
Please call it there's something you are looking for.

View/Print A La Carte Menu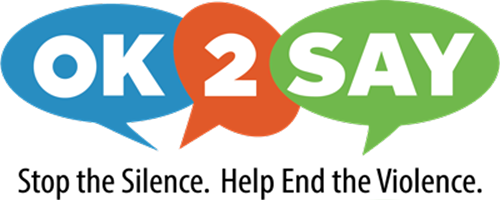 A hero doesn't necessarily have to wear a cape and tights, maybe a hero speaks up for what's right. Maybe that hero could be you. If you see or hear something that doesn't seem right, you can submit a confidential tip to OK2SAY. OK2SAY allows anyone to confidentially report tips on criminal activities or potential harm directed at Michigan students, school employees, or schools. Protect yourself and others by using OK2SAY. Because if you won't, who will?