Student Resources
If you have questions or need assistance, please see our resource list below.
Clothing
If you are in need of clothing contact:
Community Service
If you are required to complete community service the link below will provide you with local businesses that offer these services:
Disability
If you have a disability or have questions regarding a disability contact:
Food Programs
If you are in need of food assistance contact:
Owosso Community Kitchen - 989-725-7485
Laingsburg Cooperative Food Bank- 517-651-5531
Grief
If you are in need of grief counseling contact:
Job Training & Employment
If you need further job training contact:
Medical Care
If you do not have health insurance and are in need of medical services contact:
Redeemer Lutheran Church
2510 N. M-52 Owosso
*This is a free medical clinic available the 1st and 3rd Saturday of each month from 8:00 am – 11:30 am.
First Baptist Church
901 E. Grand River Rd. Laingsburg
*This is a free medical clinic available the 2nd Saturday of the month from 9 am – 11:00 am.
Pregnancy
If you are pregnant or have pregnancy related questions contact:
Social Security
If you have questions regarding receiving Social Security Insurance benefits (SSI) and Work contact:
Substance Abuse
If you or someone you know has a substance abuse problem contact:
Stress
If you are stressed and are in need of help contact:
Suicide
If you or someone you know is at risk of committing suicide or have been affected by suicide contact:
Transitional Living
Contact: REACH 989-725-9511
Transportation
If you are in need of transportation contact:
SATA 989-729-2687
Transportation Solutions 989-725-9303
Violence
If you are experiencing violence or have and it is affecting your daily life contact:
Multipurpose Centers
Shiawassee County Service Center: Food Programs, Job Training, Education, and Clothing
Contact Information: 1350 E. Main Street Suite 106 Owosso
Phone: 989-723-3115
Catholic Charities of Shiawassee County: Substance Abuse, Pregnancy, Food Programs, Anxiety, Grief and Violence
Contact Information: 120 W. Exchange Street Suite 204 Owosso
Phone: 989-723-8239
Shiawassee United Way: Disability, Violence, and Food Programs
Contact Information: 310 W. Main Street Suite 1A Owosso
Phone: 989-723-4987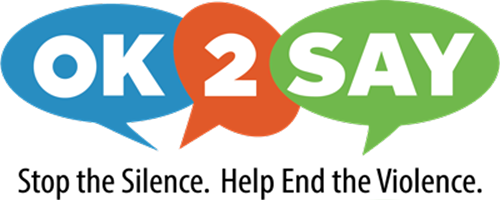 A hero doesn't necessarily have to wear a cape and tights, maybe a hero speaks up for what's right. Maybe that hero could be you. If you see or hear something that doesn't seem right, you can submit a confidential tip to OK2SAY. OK2SAY allows anyone to confidentially report tips on criminal activities or potential harm directed at Michigan students, school employees, or schools. Protect yourself and others by using OK2SAY. Because if you won't, who will?